Introduction
Income protection is designed to protect you from the financial consequences of being unable to work due to illness or injury. It's a relatively old product however its popularity has grown rapidly in recent years. But how much do you need? And how does it work?

How much income protection do you need?
Income protection is there to cover your basic living costs while you are off work recovering from an illness or injury. It should not be used to fund luxuries and will be designed to protect you from the worst-case scenario.

The amount of income protection that you need will vary depending on what your lifestyle looks like and your "must pay" expenses, i.e., Rent/ Mortgage, Utility Bills, Food, Taxes etc.
What is income protection for?
Income protection is designed to ensure that you can meet your day-to-day financial commitments (such as rent, food and utility bills) while you are unable to work. It's there to keep you financially stable while recovering from an injury or illness. As a result, the amount of income protection you need will largely depend on your lifestyle and financial obligations.

While all of us like to think we'll be fine, the truth is that none of us really knows what the future will bring. You could fall down the stairs and break your leg next week or be diagnosed with a life-threatening illness tomorrow. Claims statistics give us the eye-opening reality and the youngest claimant is under 25 and some of the biggest reasons for claims are Musculoskeletal problems, Mental Health & Cancer.

While it's true that income protection policies won't cover every eventuality, they can help provide you with an income in some of the most common scenarios. If you get injured or sick, it may mean having enough money to pay your mortgage or rent along with other basic living costs until you're able to work again—and that's where an income protection policy comes in.

The important thing to remember here is that while everyone hopes they'll never need their policy – but sometimes things go wrong and this just helps protect against those times when it does happen!
Plan ahead with income protection
When you're looking into income protection, it's helpful to think about your income protection needs over the next 10 years and not just today. So consider factors like:

• Mortgage payments and other commitments such as medical bills, college fees for children;

• Your desired lifestyle: Do you want to make savings for your family every year? If so, how much will it cost, and should this be factored into your income protection needs?
If your income were to stop today, how would you cover this month's expenses?
One big thing to remember is that income protection only exists to keep things ticking over while you're off work recovering. So, you'll need to really look at your finances to understand where your money is going.
Don't set your cover too high
How much income protection you need depends on your circumstances. If you have children, for instance, your monthly outgoings could be more than the average person's if you have school fees and childcare to pay. So, in this way, income protection offers a slightly tailored form of protection to keep your quality of life stable during a period of illness or injury.

The last thing anyone wants after being diagnosed with an injury or illness is financial hardship on top of it. So, think of income protection as a way to keep your standard of living on a similar level to when you were working, as this will ensure that you get the most out of this type of policy.
Conclusion
So, if you're looking at income protection, bear in mind that it's there to protect your future income. It's not designed to cover the cost of luxuries or big purchases such as cars or holidays. So don't set your limit too high – just ensure that it covers your basic living expenses.

If you're looking for guidance or advice on what level of income protection is right for you, then contact our experts at WIS Business Protection today.
About WIS Business Protection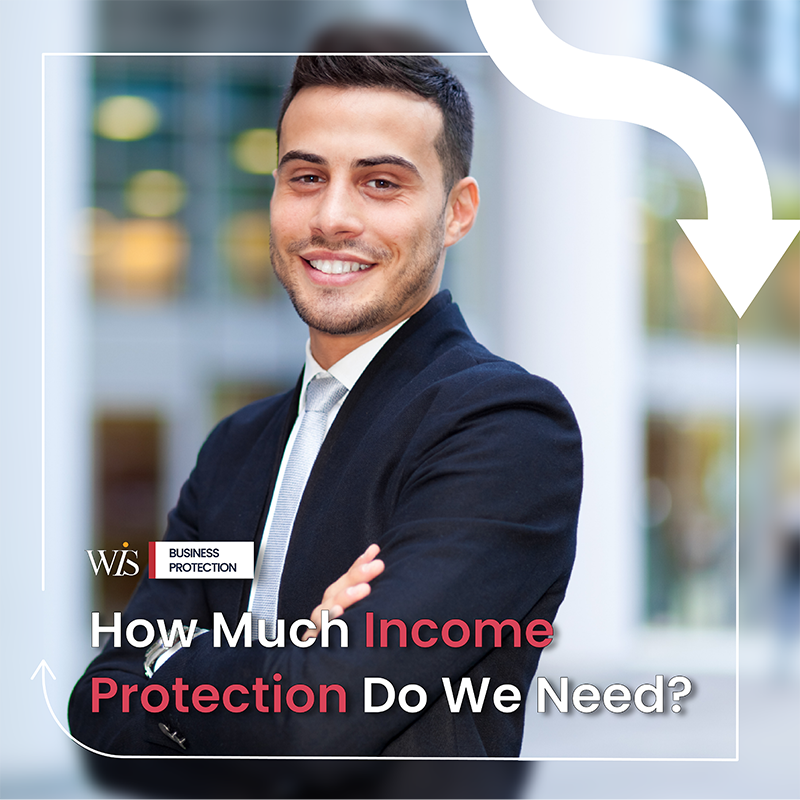 WIS Business Protection is the leading provider of insurance advisory and support services in the UK. We help individuals and businesses find the best deals on insurance products and provide expert advice on the most suitable cover for their needs. Our specialist team has a wealth of experience in the insurance industry, and we are passionate about providing our clients with the best possible service.