Introduction
When you run a business, you need to ensure that it's protected from a number of risks. Risks such as theft, fire and flooding can all have a huge impact on your company's bottom line. Businesses have insurance policies in place to protect them against these types of incidents as a result of the negative impact any one of these events could have. This article discusses some key types of business protection plans that businesses can take out for their employees:

Keyman Insurance
Keyman insurance, also known as key person insurance, is a type of business insurance that covers the loss of a company's most important employee. It's also known as key person insurance.
If your company was to suffer from a loss due to its founder, CEO, or other key employee passing away unexpectedly (for example), what would happen to your business in terms of financial responsibilities? Would you be able to pay off all debts and liabilities while also paying out any outstanding wages owed to employees and creditors? If not, then it may be time for Keyman Insurance.
Executive Income Protection
Executive income protection is a type of coverage that businesses implement for the workforce to ensure that they can continue their normal lifestyle following a sickness or illness that stops them working. It differs to personal income protection in that its coverage extends beyond income and covers things like pensions and National Insurance contributions.

This type of insurance is a good option if you fear that your business may face uncertain or unstable times in the future. If something happens to an employee and they can't work due to illness or injury, this coverage provides a monthly benefit to the business that is then passed onto the employee. This allows the business to function as normal while also giving the employee financial protection.

Executive income protection is quite a useful form of insurance as it offers a lot of benefits. Some of the main benefits include:

• Coverage that is tailored on an "Own Occupation" basis of those covered
• Provides up to 80 % of an employee's gross earnings
• You can choose to cover National Insurance contributions and any life insurance or pension premiums paid in on behalf of the insured party.
• Flexible costing with the ability to choose 1year, 2years or comprehensive benefit payments.
• The benefit goes directly to the employer, giving the business flexibility with how to pay out to the employee, such as PAYE and or dividends.
Relevant Life Insurance
Relevant life insurance is a type of insurance that provides a death-in-service benefit to employees. It's a cost-effective form of protection for businesses, particularly those too small to set up a group life scheme. The coverage is created and maintained by the business, but any pay-outs go through a Trust so that beneficiaries of employees get the benefits.

It's similar in many ways to a standard life insurance policy – individuals are assessed on their level of coverage, existing health, and other lifestyle indicators. If an employee under this cover dies in service, then their beneficiaries receive a pay-out. This type of cover may also pay out if an employee receives a terminal illness diagnosis while working with the company.

Relevant life insurance is particularly useful for smaller businesses, as it offers a way to provide benefits and work-related perks to employees. It's also classed as a business expense, which means the business enjoys tax relief on any of the premiums paid. This type of insurance doesn't require any National Insurance contributions either, so it won't impact employee income tax.

A Relevant Life plan is also useful for business owners who want a different level of cover as opposed to their group life scheme offered to the rest of the employees.
If your income were to stop today, how would you cover this month's expenses?
One big thing to remember is that income protection only exists to keep things ticking over while you're off work recovering. So, you'll need to really look at your finances to understand where your money is going.
Conclusion
As you can see, there are many types of business protection and insurance to choose from. It's important that you understand your options so that you can make an informed decision about coverage. If you'd like to learn more about different types of insurance to protect your business, contact us today at WIS Business Protection.
About WIS Business Protection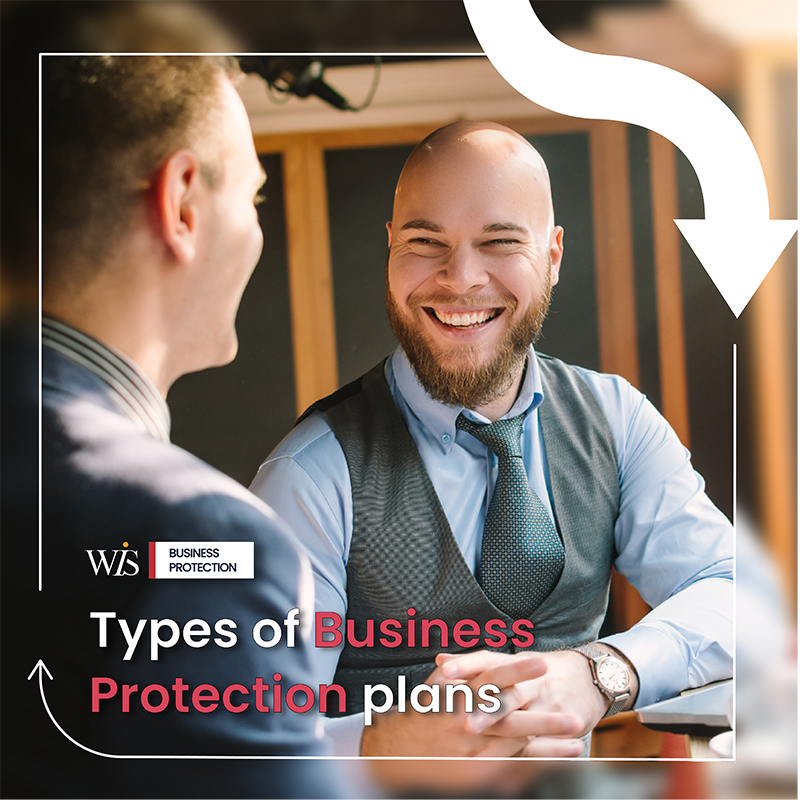 WIS Business Protection is the leading provider of insurance advisory and support services in the UK. We help individuals and businesses find the best deals on insurance products and provide expert advice on the most suitable cover for their needs. Our specialist team has a wealth of experience in the insurance industry, and we are passionate about providing our clients with the best possible service.