As an accountant, you'll know all too well the challenges your clients face and how competent financial preparation can help. By partnering with WIS Business Protection, not only can you further cement your role as a trusted advisor, but also offer holistic, tax-efficient insurance solutions for your clients that will bring in more revenue for you. Let's delve into the compelling benefits of becoming a protection advisor with a WIS Business Protection partnership.
Who is WIS?
Our team at WIS are more than business protection specialists – we're experienced accountants, too. Around six years ago, we decided to expand our accountancy practice, WIS Accountancy, to offer our clients tax-efficient protection services. We found tremendous success with this growth and now enjoy first-hand experience and a proven track-record in this field of business protection. We're now offering to help other accountants achieve the same growth, client satisfaction and success by following our path.
By partnering with WIS and becoming a protection advisor, you gain access to the tools, guidance and support of a dedicated team that understands your needs to the letter. We speak your language and have all of the tools you need to level-up your accountancy services. Through us, you'll become a holistic advisor who can transform your accounting practice, unlocking new opportunities for your clients and your business.
The Benefits of Becoming a Protection Advisor
Starting a partnership with WIS puts you on track to become a competent, specialised protection advisor. You'll be able to offer a wide range of tax-efficient insurance policies to clients through our guidance, such as:

All of these services will act as a profitable source of revenue for your practice. Moreover, you'll be offering your clients more tax-saving strategies that will set you apart from the competition. With our help, you'll grow from an accountant into a holistic advisor who can offer more value to your clients. Here's how we can get you to that point:
Training Tailored to Your Needs
Every profession requires constant upskilling – and accountancy is no different. By partnering with WIS, you receive exclusive training sessions designed to enhance your understanding of the insurance market, policy options, and the nuances of business protection. This not only augments your service repertoire but also positions you as an expert in both financial and protection advisory.
Holistic Advisory Services
Your clients look to you for guidance on their financial health and security. By incorporating insurance advisory as part of your services, you become the go-to expert for all their financial concerns. This seamless integration provides your clients with a one-stop-shop experience, fostering trust and deepening client relationships.
When partnered with us, you'll work alongside a mentor who will offer continuous guidance and support. You'll have full access to all of the necessary systems required to advise your clients and we provide professional indemnity insurance to keep you protected. What's more, commission is split in your favour, so you'll keep 60 % of all commissions made.
Tax-efficient Insurance Policies
Every business seeks to reduce its tax liability without compromising on protection. WIS Business Protection specialises in tax-efficient policies, ensuring that your clients get the best of both worlds. By presenting these options, you not only save them money but also amplify their trust in your expert advice.
Tax and insurance laws are in perpetual motion and prone to updates. Partnering with WIS keeps you abreast of these changes, ensuring that the policies you recommend and advice you give are always compliant and optimised for the current tax environment.
Comprehensive Compliance Monitoring
WIS places a high premium on compliance. As you navigate the intricacies of business protection, rest assured that WIS's robust compliance monitoring system will back you up. This not only safeguards your firm from potential pitfalls but also reassures your clients about the legitimacy and quality of the services they receive.
With WIS handling the bulk of compliance monitoring, your firm can focus on what it does best: offering top-notch advisory services. This operational efficiency not only saves time and resources but also streamlines the client experience.
Tailored Suitability Reports
No two businesses are alike. Recognising this, WIS provides tailored suitability reports, ensuring that the insurance solutions you recommend perfectly align with your client's unique needs, objectives, and risk profile.
These suitability reports are not mere conjectures; they are rooted in thorough research and data analytics. As you present these to your clients, they'll see the depth of analysis that goes into each recommendation, further establishing your position as a diligent and knowledgeable advisor.
The Future of Holistic Advisory Services is With WIS
As the business landscape evolves, accountancy firms need to transcend traditional boundaries to remain relevant and competitive. By partnering with WIS Business Protection, you equip yourself with the tools, training, and support required to offer holistic advisory services, ensuring that your clients' businesses are not only financially sound but also well-protected against unforeseen challenges.
If you'd like to know more about partnering with WIS and becoming a protection advisor, please reach out to our team today.
About WIS Business Protection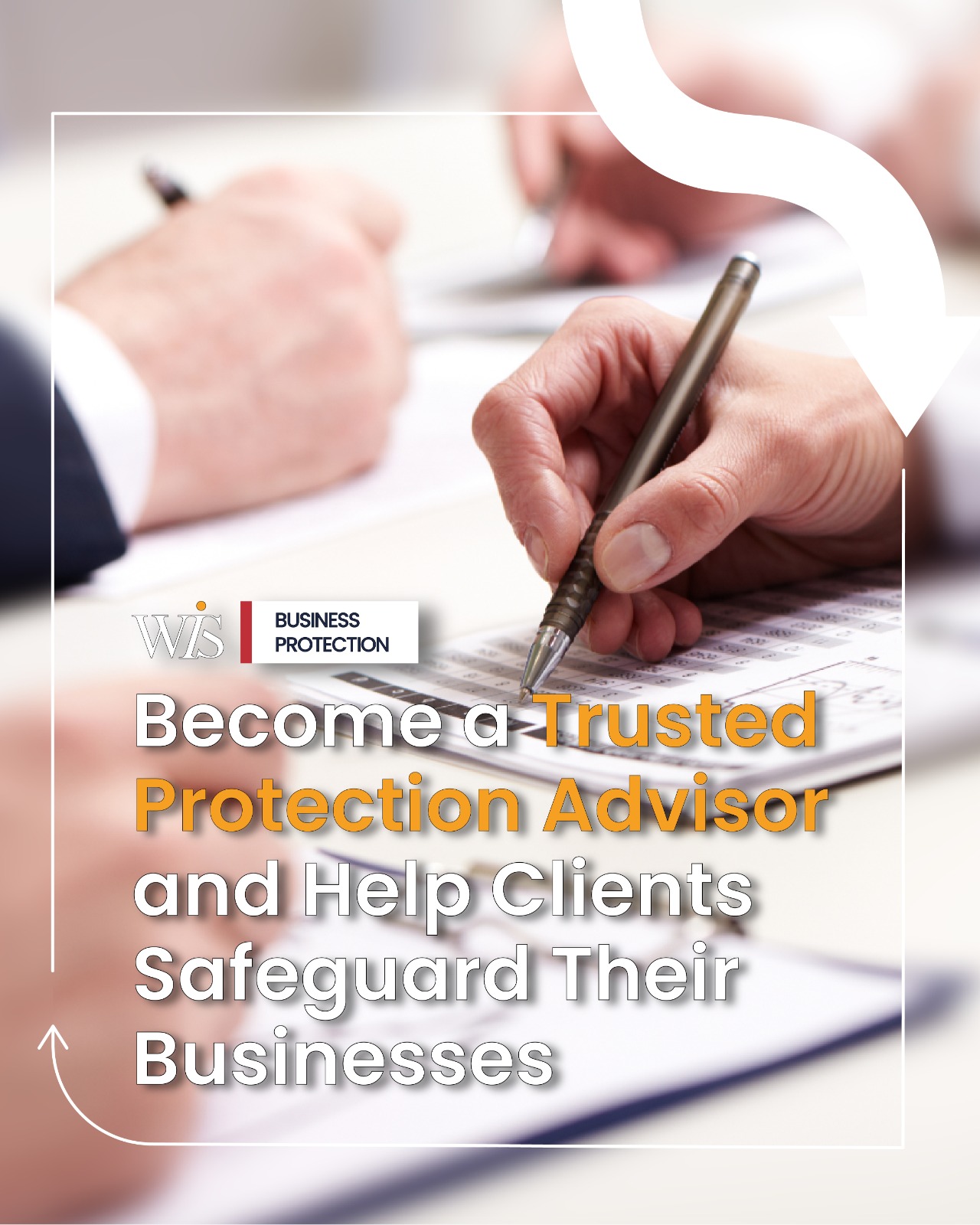 WIS Business Protection is the leading provider of insurance advisory and support services in the UK. We help individuals and businesses find the best deals on insurance products and provide expert advice on the most suitable cover for their needs. Our specialist team has a wealth of experience in the insurance industry, and we are passionate about providing our clients with the best possible service.