Key man insurance, often referred to as key person insurance, is a specialised type of insurance coverage that's designed to protect businesses from the potential financial fallout that can arise when a key employee, such as a founder, executive, or top performer, dies or becomes incapacitated. Much like how personal life insurance provides financial stability to one's family, key man insurance ensures that a business can continue its operations despite the sudden loss of a crucial member. But what exactly does it encompass, and who should consider it? Let's delve deeper into this topic.
Understanding Key Man Insurance
When an essential individual in a company passes away or becomes unable to work, it can cause a significant disruption to the business. From losing specific skills for the business to missing the driving force of a company, losing a key employee can be a big problem for businesses. Key man insurance provides a safety net by offering financial support during such trying times. It helps in covering various business-related expenses and ensuring that the company remains afloat.
How Does Key Man Insurance Work?
At its core, key man insurance is designed with a specific purpose in mind. It provides benefits to the company as a way to pay off any debts or liabilities that are still there following the death of the key person. It also can help cover a variety of things like ongoing expenses. These could be for things like employee wages where necessary. This specialised coverages works in the following way:
– Policy Ownership and Beneficiary: The business itself usually purchases the policy on the key individual and is also the beneficiary. This means that any death benefits or disability payouts go directly to the business.
– Premium Payments: The business pays the premiums. Depending on the policy's structure, these premiums might be tax-deductible.
– Payouts: If the insured key person dies or becomes disabled, the policy will payout. This can be a lump sum, depending on the policy's terms.

Uses of the Payout
Once a business receives the insurance payout, it can use the funds in multiple ways to suit the needs of the business. Some of the most common uses of the key man insurance payout includes:
Debt Repayment: Cover outstanding business debts to keep the business solvent.
Operational Costs: Ensure that day-to-day operational costs are met, especially during the period of adjustment and transition.
Recruitment and Training: Hire and train a replacement to fill the void left by the key individual.
Business Wind-Up: In some situations, the best decision might be to close the business. The payout can fund severance packages, repay debts, and manage other closure costs.
Who Requires Key Man Insurance?
It's essential to evaluate the role of every individual in your company to determine if they qualify as a "key person." Here are some examples of who might need coverage:
Founders or Co-founders: The loss of a founder can be deeply destabilising. Their vision and leadership are irreplaceable, and their sudden departure can create chaos.
Top Executives: CEOs, CFOs, and other top-tier leaders play a vital role in decision-making, strategy, and day-to-day operations.
Sales Leaders: If a particular individual is responsible for a significant portion of the company's revenue, their loss can significantly impact the bottom line.
Specialised Talent: Individuals with unique skills or knowledge that is hard to replace can qualify as key personnel.
This type of coverage is suitable for all types of businesses, particularly if you rely on a particular individual for your business to work. However, if you run a sole proprietorship or a partnership, then key person insurance might not be suitable as you won't have people that you rely on to run the business. Instead, something like life insurance for yourself as the sole employee would be more relevant.
Factors to Consider When Purchasing a Policy
Before taking out a key man insurance policy, consider the following factors to make sure it's suited to your needs:
– Policy Duration: Decide the policy term based on the key person's role and relevance to the company's future.
– Amount of Coverage: This should be based on the potential loss the business might suffer in the absence of the key person. This can include lost profits, replacement costs, or other financial metrics relevant to the business.
– Health and Age: As with any life or disability insurance, the age and health of the insured play a role in determining premium costs.
Is Key Man Insurance Right for Your Business?
Key man insurance is not just a policy but a strategic safeguard for businesses. It ensures continuity and provides a financial buffer during challenging transitions. While no amount of money can replace a vital team member's contribution, this insurance can ensure that a business has the financial means to navigate the disruption and find a way forward. If your business relies heavily on one or a few individuals, it may be time to consider protecting your enterprise with key man insurance.
If you have any questions about key man insurance, or would like assistance in finding a relevant policy for your needs, contact our team at WIS Business Protection today.
About WIS Business Protection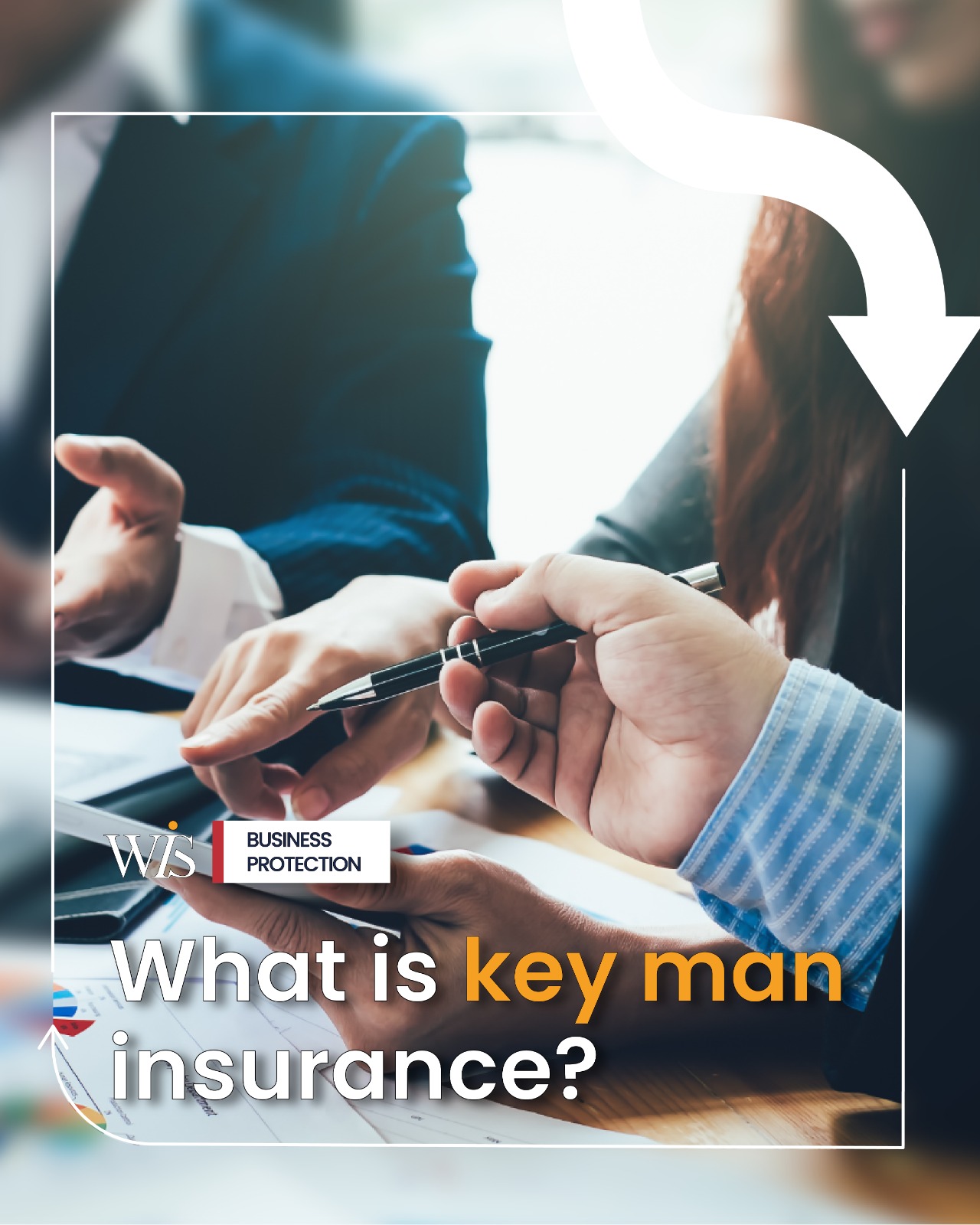 WIS Business Protection is the leading provider of insurance advisory and support services in the UK. We help individuals and businesses find the best deals on insurance products and provide expert advice on the most suitable cover for their needs. Our specialist team has a wealth of experience in the insurance industry, and we are passionate about providing our clients with the best possible service.